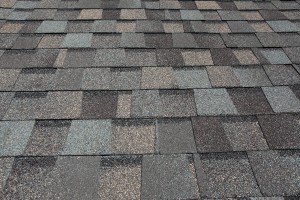 From metal and fiberglass to cement and slate there are a handful of roofing materials to choose from.  However, one of the most popular among them is asphalt for its affordability and traditional appearance.  Whether you currently have an asphalt shingle roof that needs repairs and maintenance or you're shopping around for the best roofing material for your home, it's important to have a comprehensive understanding about this roofing material. As roofing specialists we've pulled together a list of the pros and cons as well as some maintenance tips for asphalt shingles.
Pros Of An Asphalt Shingle Roof
As mentioned above, asphalt shingles are extremely popular because they're more affordable than other materials on the market. Asphalt shingles are lightweight making them easy to maintain and easy to repair and install.  Because of their ease of installation, this type of roofing is quick to install, cutting down on labor costs. Additionally, they offer a wide range of versatility in color, shape and texture for homeowners.  Asphalt roofing systems also have a general lifespan of 25-30 years, a great return on your investment.
Cons Of An Asphalt Shingle Roof
While there are many benefits to asphalt shingles, there are a few slight drawbacks. For one, poor attic ventilation may decrease the lifespan of your asphalt shingles so make sure that your attic is properly ventilated. Additionally, while they are relatively low maintenance we recommend to have your roof serviced periodically.
Maintenance Tips For Asphalt Roofing Shingles
As mentioned above, asphalt shingle roof systems are low maintenance and require just little attention out of the year. Throughout the year make sure that leaves, moss, algae, heavy snow and other debris that could potentially damage your shingles, are removed every now and then.  Another crucial roof maintenance tip is to have your gutters and downspouts cleaned twice a year. If not properly maintained, gutters will become clogged which can significantly affect the health of your asphalt shingles.
If you're in need of an asphalt shingle roof installation, repair or inspection give us a call at GT Donaghue. We're happy to answer your questions and recommend the right services for your home and needs. Call or click here for a quote.